4x4 LS model,
2.8L (2828cc) GM 60 degree OHV V6, (LL2)
TFI fuel system
5 speed manual transmission
4.56 ratio differentials (good for tire sizes through 35")
3" shackle for rear leaf springs, lifts rear 1.5"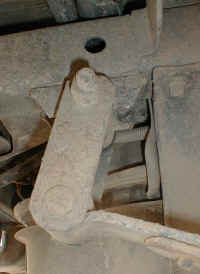 15" Aluminum Rims

BFG Mud Terrain - 33 x 12.50 tires ~ $600 installed. These tires are great on the Trooper II. The tires work well in all road conditions, from pavement to deep snow. Originally the fit on these was a little too tight, but they fit fine with a few hours of body and suspension work. First, we did a 1.5" torsion bar lift in the front (just a little tighter - too much and the Trooper front end tends to bounce and over steer and the CV joint makes strange noises). I replaced the stock bump stop on the upper A-arm with a smaller stop, and found that adjusting the Rancho9000 shocks to 5/tight also helps to balance the tighter springs. I lost a little steering radius; 1/4 turn each way over my 31 x 1050s and about 1/3 turn each way over the stock street tires. The stock steering bolts are too short to contact the steering arm so they need to be replaced. Next, I did a small fender trim by bending back a little sheet metal around the rear wheel well fender for added clearance, especially nice while using snow chains. Last, I installed 4" rear axle bump stops to keep the rear tires from rubbing the wheel wells when the rear axle articulates fully. This mod, the way I have it set up, causes the truck to oversteer just a little bit in 2WD, and 4WD understeer is also more noticeable. The price we pay to lift several inches! I'll also need to add a Pacer fender trim kit in the near future.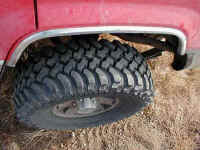 If you don't feel like taking a big hammer to your body and messing around with your suspension, I have been running BFG Mud Terrain 31 x 1050 tires for the last several years with no problems- HIGHLY RECOMMENDED. This is a very good mod and I had no wheel well clearance problems even without any lifting.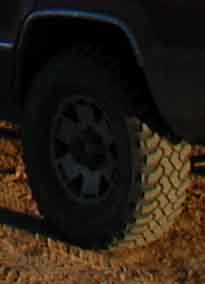 Rancho 9000 shocks $140 - HIGHLY RECOMMENDED. No more bottoming out over dips and bumps. Pre-running wash board at 50 mph is smooth as silk. We still brace hard for unexpected dips, only to have them be non-events. Crawling results in far fewer bottom hits. I leave them turned to setting 5/firm all the time as they don't seem overly harsh and help cornering and braking. Note: the big BFGs rub the boots a little at full lock.
K&N Air filter mounted on an Edelbrock air cleaner hardware kit- $50. Probably good for 5-10 HP over the overly restrictive stock air filter.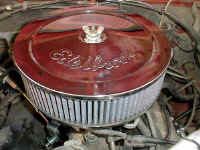 Holley 2 barrel 400 cfm model 3210 (part 502-3) TFI - $340. This is a VERY good mod good for 25-30 HP. After adding the filter and carb, our trooper easily goes 90+ mph loaded, with a huge cargo box on top (vs. about 80 before without the box)! Hills I used to take in 3rd gear at 45 I now climb at 70 in 4th! Fuel consumption is not too much worse if I can manage to not stand on the gas pedal.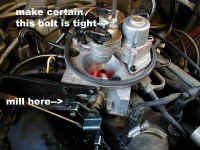 This was an easy mod, but I had to jury rig several things to get the Holley to fit and run correctly. Specifically:
1) I milled the throttle cable bracket so it fit onto the new carb without too much cable tension. Too much tension will tend to hold the idle too high. I also needed to add a spacer to the throttle cable to get the tension right.
2) I soldered and taped the wire connections so they won't break or leak. I used the wire connections I found at Sean Michaels' excellent web page.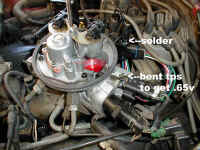 3) The gas pedal stop required adjustment to get full travel with the new carb.
4) I needed to bend the TPS so it registers .65 volts.
5) I needed to scavenge a straight stud from my bolt bucket to mount the K&N/Edelbrock air cleaner. If you do this, make certain to run a bolt down the stud to hold the injector retaining plate in place (see photo detail).
I can't stress enough how well this mod works. The computer took a couple of hundred miles and / or a few days to figure out what's going on, and my idle speed still varies between 700 and 1100 RPM, but I'd do it again in a minute!
Superwinch locking hubs - $110. HIGHLY RECOMMENDED. If you have auto lockers, this $110 one hour mod will make all the difference in the world.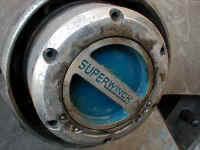 Yakima racks, Basket Case, and Space Case - Very handy. Put the gas and wood in the basket case, and put the snowboards, skis, and bulky stuff in the Space Case where it's out of the way.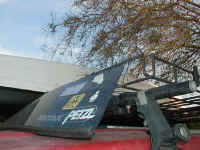 I'd love to hear from you if you have questions or comments. Contact me at: lock-n-roll@trailgoon.com