4x4 LS model,
2.8L GM V6
4.56 ratio differentials
LS rear differential
15" Aluminum Rims

BFG Mud Terrain 31 x 1050 tires - $370. HIGHLY RECOMMENDED. This is a very good mod and I have no clearance problems even without any lifting.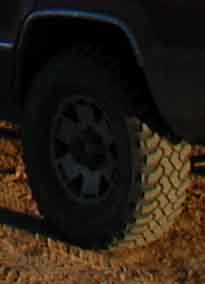 Rancho 9000 shocks $140 - HIGHLY RECOMMENDED. No more bottoming out over dips and bumps. Pre-running wash board at 50 mph is smooth as silk. We still brace hard for unexpected dips, only to have them be non-events. Crawling results in far fewer bottom hits. I leave them turned to 5 (stiff) all the time.
K&N Air filter mounted on an Edelbrock air cleaner hardware kit- $50. Probably good for 5-10 HP over the overly restrictive stock air filter.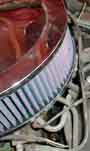 Holley 2 barrel 400 cfm model 3210 (part 502-3) TFI - $340. This is a VERY good mod good for 25-30 HP. After adding the filter and carb, our trooper easily goes 90 mph loaded, with a huge cargo box on top! Hills I used to take in 3rd gear at 45 I now climb at 70 in 4th! Fuel consumption is not too much worse if you can manage to not stand on the gas pedal.
Superwinch locking hubs - $110. HIGHLY RECOMMENDED. If you have auto lockers, this $110 one hour mod will make all the difference in the world.
Yakima racks, Basket Case, and Space Case - Very handy. Put the gas and wood in the basket case, and put the snowboards, skis, and bulky stuff in the Space Case where it's out of the way.
I'd love to hear from you if you have questions or comments. Contact me at: weeln@trailgoon.com